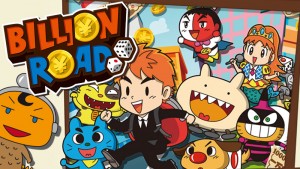 Billion Road takes you on a journey to a huge number of real-life prefectures and cities throughout Japan, and your goal is to be the richest player in the game when you pull into the final destination. Up to 4 players can compete using a single Joy-Con™ for Nintendo Switch or online for Steam. It's a race against the clock to buy up businesses, landmarks, and anything else that comes up for sale! A variety of iconic monsters will also appear to help or hinder your progress, depending on their mood. You'll need smarts, determination, and a little bit of luck to come out on top, so prepare for the race of the century in an effort to become Japan's next big billionaire!

Key Features
Brains, Bravado, and Lucky Breaks! Dice and random events will help decide your fate…but you'll also need to invest wisely, take calculated risks, and rely on the whims of unpredictable monsters if you want to become Japan's next billionaire!
Over 30 items and 50 monsters! You'll encounter dozens of items and monsters, each with their own effects. Use them to push your opponents around, ruin their investments, and generally make their lives miserable. But be careful, because while they may help you earn money and pull ahead, they can also make bad purchases or investments on your behalf. This can change the game at a moment's notice, so study the monsters well to make sure you know when to walk away, and when to run!
Multiple Modes Means Maximum Mayhem! Tournament Mode is a single-player version that lasts for 30 in-game years, while Skirmish Mode is a quick multiplayer experience that lasts a mere 36 months. Whether long or short-term, it's sure to get the adrenaline pumping!
Show Your Friends Who's Boss! Play with your buddies by sharing a single Joy-Con™ on Nintendo Switch, or play with friends online through Steam!